Antonio Serrano began his musical studies with seven years. His father was who intrude him in this art, teaching him (through a personal and original method, and using the harmonica as first instrument) the main keys to learn how to play any instrument and to interpret any musical style effortlessly. This teaching, according to Antonio the most valuable in his formation, it is enlarged and supplemented with piano studies, violin, percussion, musical reading (formerly called solfas), harmony, history of the music, history of the art, combined coral and aesthetics in the conservatories of Madrid and Alicante.

Very soon he began to highlight as harmonica player and after winning several national and international competitions, it was called by the great master Larry Adler to play with him in a concert organized by the United Nations in Paris, in which will share scenario with musicians like Lorin Maazel, Salvatore Accardo, Barbara Hendricks, Plácido Domingo, etc...

From this concert was born a great friendship and mutual admiration (between Antonio and Larry) that lived until the Great Teacher's death September 7th 2001 with 87 years old. Last time they had the opportunity to play together was in London in 1999 with reason of the celebration of the Teacher's 85 birthday.

Along his career like classic harmonica player, Antonio have had the opportunity to play with the Symphonic Orchestras of: Hidelberg, Kiel, Colony, Istanbul, Belgium, European, Spanish RTV, Granada, Sevilla, Las Palmas, having recorded out recordings with those of Colony, The Palmas, O.R.T.V.E., and the European.

Antonio, restless musician by nature decides to begin in the Jazz after hearing Louis Armstrong and recordings of the master Toots Thielemans. He studies modern harmony with Félix Santos During one year and after it continues studying in a self taught way; although according to Antonio, he has learned much with playing with other musicians.

In his still short Jazzy career, can say that he has played with the most prominent musicians in the national musical scene (Perico Sambeat, Chano Domínguez, Jorge Pardo, Carles Benavent, Tino di Geraldo, Guillermo Mac Gill, Lou Bennet, Carlos Carli, Horacio Icasto, Albert Sanz, Joshua Edelman, David Mengual, Javier Colina, Dan Rochlis, Bob Sands, etc...) having collaborated in projects with Carles Benavent, Horacio Icasto, David Mengual, Pedro Ruy Blas, Joshua Edelman, and Tino di Geraldo.
Well accompanying these artists or with their own group, he has played in the following Festivals of Jazz: San Sebastian, San Javier, Alicante, Salamanca, Menorca, Ciudad Lineal, Madrid, Cazorla, The Rioja, Islas Canarias, I.V.A.M., etc...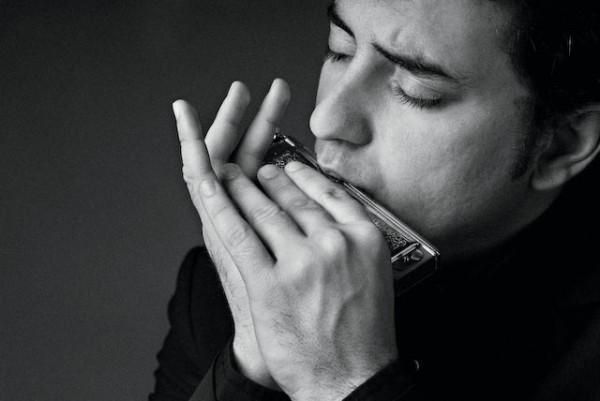 His adventures around the Jazz world, it has taken to be requested by the best flamenco interpreters to collaborate all over the world in their disks and performances. He has prominent collaborations with: Vicente Friend, Diego Amador ("The Churri"), Esperanza Fernández, Rubén Dantas (percussionist of Paco de Lucía), Carles Benavent, Chano Domínguez, Juan Cortes, Tomasito, etc...

Antonio Serrano's versatility to approach any musical style and interpret it with fineness, elegance and mainly with respect, he has made that their harmonica can also be heard in the albums by: Pedro guerra, Joaquín Sabina, Estopa, Rosana, Ana Belén, Rosario y Lolita Flores, Navajita Plateá, La Barbería del Sur, Tontxu, Ella Baila Sola, German Copini, Maita Vendecá, Armando Manzanero, Presuntos Implicados, Rosa Leon, Paloma Verganza, Homenaje a Maria Elena Walsh, Homenaje a Serrat (Serrat eres Único), Homenaje a Antonio Flores y Homenaje a Carlos Cano.

He has also collaborated in the Originals Soundtrack of films as: Carne Trémula by Pedro Almodóvar, Mamá es Boba by Santiago Lorenzo, Impulsos by Miguel Alcantud, and Tiempos de Azúcar by Juan Luis Iborra.

Although his discography as soloist is still small, his album "En el Central" recorded live in the Cafe Central from Madrid with Joshua Edelman's trio, it has had a stupendous welcomed by the specialized critic in Jazz, and a second album is expected with this formation.

Nowadays, Antonio combines a tight schedule of concerts for the whole national and international geography, and preparation of new albums.

With all this, Antonio Serrano is a young musician (1974), we can conclude without fear to make a mistake, saying that we are in front of a musician of great sensibility and surrendered deeply at the most absolute conviction to art of the interpretation and the musical creation.

Finishing, some Antonio Serrano's words:

"... I consider myself a searcher of the beautiful sounds, and there where I find harmony, rest and I observe, I learn, until I feel with forces to continue in the search that I hope, never finish."



Extracted from: Harmonica Spain Antonio Serrano